<!––post date -->

21 September 2015

Cette page est également disponible en FR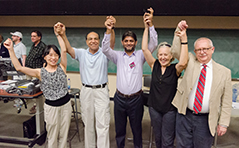 At their special general assembly on Friday evening, the members of the McGill Course Lecturers and Instructors Union (MCLIU) voted by an overwelming majority to adopt their first collective agreement. MCLIU is an affiliate of the Fédération nationale des enseignantes et des enseignants du Québec (FNEEQ-CSN).
Sylvain Marois, the Vice-President of FNEEQ-CSN for the regroupement université, stated: "The long struggle of McGill University's course lecturers and instructors to obtain recognition of the value of their work has just come to an end…. The union members can be proud of thivote, the fruit of prolonged effort."
"Our new work agreement, whose terms are comparable to those of other course lecturers' collective agreements negotiated through FNEEQ-CSN, represents substantial gains for our members," said Raad Jassim, the President of MCLIU.
The members will benefit from significant salary increases over the three years of the agreement as well as retroactive pay from January 2015. It should be noted that the course lecturers in this university in Montreal were the lowest paid in the Province of Quebec. Thus, their situation has suddenly improved.
"We would also like to emphasize that we have obtained recognition of seniority in the allocation of courses, paid sick leave, clarification of tasks and workloads, the creation of a labour relations committee and the putting place of grievance, arbitration, and disciplinary procedures, the obtaining of parental leave rights equivalent to those of full-time teachers and the associated social benefits," added Mr. Jassim.
Accredited since the end of August 2011, MCLIU as an affiliate of FNEEQ-CSN has had as its goal to harmonize the working conditions of McGill course lecturers and instructors with those of the other universities in Quebec. This first collective agreement will enable them to take a giant step in this direction.
FNEEQ
FNEEQ-CSN includes some 35 000 members in CEGEPs, private institutions, and universities. The members comprise the union members of about a dozen universities, including 10 course lecturer unions, the union of Tele-University tutors, AGSEM – the Teaching Assistants and Invigilators Union of McGill, and the course lecturers union of ETS (École de Technologie supérieure). It is the union most representative of higher education in Quebec.
-30-
For further information, please contact:
Pour renseignements :
France Désaulniers
Conseillère aux communications
FNEEQ-CSN
france.desaulniers@csn.qc.ca
514 598-2243
514 219-2947 (portable)
Facebook : FneeqCSN
Twitter : @FneeqCSN